By: Linda Keating - Everlast Polymeric Cladding (aka Everlast Composite Siding) is waterproof! It has no moisture wicking wood fibers – which mean it will not retain moisture that can lead to swelling or warping. Because it will not absorb water, it will give you the advantage of longevity of life with this unique product. Everlast is 60% pulverized stone and 40% polymers. Stone will not absorb water and will not rot, which means you will never have any issues with standing water or build- up of snow and ice and have the siding rot or disintegrate. It is the perfect siding for the weather we have in New England. There is no other siding that has the density of wood that will not rot.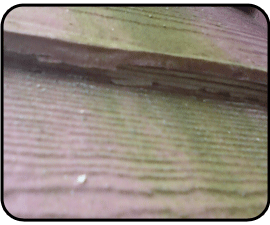 Fiber cement with water damage
Your alternatives that actually look like wood clapboard--unlike vinyl siding are Cedar and Fiber Cement. Both Cedar and Fiber Cement siding will both wick water and will rot over time. Fiber cement cannot be installed in close proximity to surfaces that hold snow or areas where water flows or else it delaminates and falls apart.
Everlast siding will never rot. And for your benefit, it has a double lifetime warranty!
Linda Keating is a siding specialist for Everlast Composite Siding and United Home Experts located in Massachusetts.