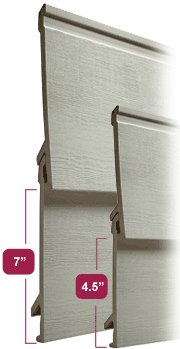 What is Everlast™ Composite Siding?
Everlast™ Siding is a beautiful and realistic looking advanced composite siding offering a top-quality, longer-lasting and low maintenance siding solution.
Paint Free. Everlast Composite Siding does not require painting like wood siding or fiber cement siding.
Solid Construction. At 1/4" thick, your house is protected from flying debris and high winds.
No Water Absorption. Everlast has no wood additives, meaning it will not absorb moisture and will not rot.
Realistic Wood Grain Texture. Everlast seams are butt joined and do not overlap (like vinyl siding) to help you achieve a look much closer to real wood.
Size Options. Everlast™ is available in 4.5" and 7" exposures.
What is it Made From?
Everlast is made from a proprietary mixture of polymeric resin and granular stone giving it strength and durability, without sacrificing beauty. Most importantly there is no wood in the product. Siding products with wood such as fiber cement or pressed board are prone to decomposing when in contact with moisture.
Lifetime Warranty: Performance & Fade Protection*
We're confident our product will look beautiful for decades to come. We back Everlast™ Polymeric Cladding with a transferable Lifetime Performance Warranty. Thanks to our ColorHold® UV-stable acrylic polymer, your new siding is also covered with Lifetime Fade Protection. Everlast™ is also warranted against hail damage, where your homeowner's insurance may not cover. Choose our experienced New England installer, United Home Experts, for installation as they are specially trained to handle and install our unique siding system.


*Please see the actual warranty for details and limitations.
Everlast™ Composite Siding Colors