The Answer:
Many people try it, but in my experience it's never a great idea to paint vinyl siding because:
Vinyl siding expands and contracts drastically in temperature changes. If painted a different color, the siding may absorb a different amount of energy from the sun. This can cause the siding to buckle or warp.
Old vinyl siding is smooth and sometimes chalky which isn't a good surface for new paint to bond to.
Investing more money in already old siding is much like putting lipstick on a pig. If possible it's better to consider an updated option that will actually add value to your home rather than detract from it.
There's 2 reasons why a homeowner would ask "Can you paint vinyl siding?"
Reason #1. Painting existing vinyl siding
Some homeowners already have vinyl on their home and desire to change the color because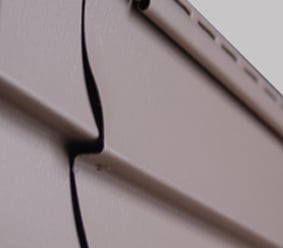 they either do not like the existing color or because the siding has faded to an undesirable shade.
Reason #2. In case one desires to paint their siding in the future
We often get this question when meeting with a homeowner about a siding replacement project because they want assurance that they can in fact change the color of their new siding if they get sick of the color. This is also a great selling feature if one intends on selling a home. Potential buyers will love the fact that they can change the color of their siding if they so desire.
Everlast Composite Siding is a siding that can be painted at any point you desire. If you're considering new siding for your home download our helpful Siding Comparison Guide.