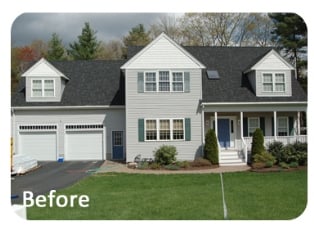 One of our employees had a personal relationship with this homeowner who happens to be an interior designer. She knows our company is a siding installer in Ashland, but she didn't know we install Everlast. In her search for siding products, she asked Mike to discuss her options.
This home is only 10 years old and already needs to be resided. The homeowners wanted to increase the curb appeal by eliminating the flimsy looking vinyl siding. They also had issues with moisture getting behind the siding that they wanted resolved. Like most people they explored many types of siding but fell in love with Everlast.
Their Feedback:"I'm kind of a perfectionist, being from an engineering background, but Everlast is a great product. We chose Everlast for 2 reasons. #1 - We wanted a product that was very durable because we have a 10 year old home that we are residing and we don't want to repeat that process. #2 - We were looking to move up the elegance scale from vinyl siding. Everlast afforded us both of those qualities and has exceeded our expectations."
Thank you for choosing us as your siding installer!