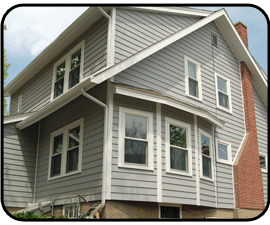 Everlast is not fiber cement siding, but we often get asked about other siding products too. One of the questions we get is if fiber cement is a good insulator or not (or what is the R-value of fiber cement). The majority of siding products are not good insulators by themselves. Most siding, including fiber cement have an R-value of less than 1 when installed alone with out additional layers or types of insulation. This means as a stand alone product fiber cement isn't going to add much insulation to your home.
Options to add insulation with siding:
When installing most siding products you have the option to add insulation at the same time in one or more of the following manners:
Use blown-in cellulose insulation
Install rigid exterior foam board insulation
Add a moisture/vapor barrier
Cellulose Insulation
With Everlast, fiber cement or any other siding product, in most cases cellulose insulation can be added to a home before the new siding is installed. The process of adding cellulose insulation includes cutting holes in the exterior wall and using a high powered blower to force loose insulation into the wall cavities, thus increasing the R-value or insulation.
Rigid Foam Board Insulation
As a homeowner you have the option to add a layer of rigid foam board insulationss (sometimes called fan-fold) to the walls before new siding is installed. This will typically add between 1 and 3 R-value depending on the thickness and properies of the insulation product being installed.
Moisture Barrier
In all cases we recommend installing a moisture barrier (commonly called a vapor barrier) to the walls before installing new siding. A vapor barrier will not only product the wood elements of your home from rotting, but will also reduce draftiness.
If you're considering various types of new siding for your home. We strongly recommend downloading our FREE siding comparison guide. If you live within our service region of New England, we'd be happy to discuss Everlast for your home.