When it comes to one's home, only the best will do. This is especially true of a home's exterior, of which there are many factors up for consideration. What looks best and what is going to offer the best protection for the climate? In Eastern New England, where the climate is influenced by both human-induced activities and natural forces, there is a variable climate with which to contend. The cold and dry air coming from the north and the warm and moist air from the south do not make either metal or wood more suitable for a home's exterior. That being said, the better choice lies with either vinyl or composite siding, both of which are better equipped to handle the dynamic climate of the Eastern New England region.
The Benefits of Everlast Composite Siding Compared to Vinyl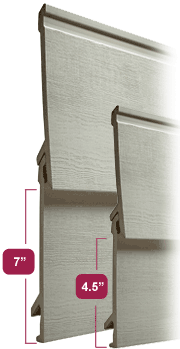 Everlast Composite siding offers the timeless appearance of wood, the strength and resilience of metal, and the versatile practicality of vinyl, but without these materials' weaknesses. Wood has the tendency to expand and rot when exposed to adverse weather conditions. Metal may not succumb to the elements, but it does not offer the warmth nor the aesthetic appearance one desires. When it comes to Everlast composite siding and vinyl, to say they are closely matched may seem correct before much research. However, there are some key differences. Vinyl siding contracts and expands significantly when exposed to certain weather conditions; the composite siding produced by Everlast has less of that expansion. That is just one fact to consider; other benefits include:
- 1/4" thick solid construction protects the house from high winds and flying debris
- Colored-through siding means there is no need to add paint
- The absence of wood additives does not allow the siding to absorb moisture or rot
- The seams do not overlap because they are butt-joined, giving the siding the impression of real wood
Color Choices Abound
Much of the argument for vinyl lies in the choices that vinyl siding colors offer. Fortunately, Everlast composite siding colors rival anything vinyl has going for it. Warm hues and earthy tones dominate Everlast composite siding colors, adding to the allure of the local area. A side-by-side analysis of vinyl siding colors and Everlast composite siding colors reveals what the experts already know - there is no comparison. Everlast produces a product superior in material construction, design, and presentation that is bar-none the unequivocal champion when it comes to exterior siding choices.