Siding on a home protects it from weather, pests and moisture, similar to a homeowners rain jacket or parka. The siding also gives a home exterior beauty. When choosing the right siding, consumers benefit from a siding comparison between aluminum and composite siding.
Appearance
The word aluminum

conjures thoughts of boring, silver metal. This siding choice, though, is actually paintable. Before or after installation, homeowners can choose a paint color and apply it with ease. The color can fade over time, however, and might run off onto the ground below.
The texture of the siding can be smooth or may simulate wood, but that look doesn't deliver like most homeowners desire. Despite these choices, aluminum siding is not easily adapted to detailed trim work, and limited trim choices can give it a more industrial rather than homey appearance.
Everlast Composite Siding needs no extra paint. Its colored polymeric resin and granular stone do not fade, and the siding includes a limited lifetime warranty against color fading (see warranty for details).
The composite wood grain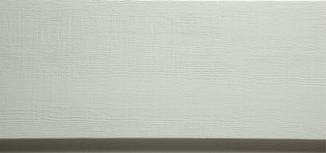 texture mimics clapboard. In fact, this siding is installed like cedar clapboard, end to end. It includes matched and specialty trim options in addition to non-composite choices. These trim options give homeowners nearly limitless aesthetic options.
Maintenance
Aluminum siding prices make it a cost effective choice. On any size of home, it decreases the costs of new home construction or existing home renovation.
When considering the initial cost, however, consumers must think about the costs associated with upkeep and maintenance and loss of curb appeal. Aluminum needs to be inspected regularly for deterioration or looseness. It must be repaired as soon as possible in order to prevent expensive damages to under layers of wood.
Everlast's maintenance needs are far fewer over its lifetime - Everlast is solid colored and won't need painting unless you desire to change the color! It requires no painting or other maintenance except maybe an occasional wash with a garden hose.
Durability
Varieties of aluminum siding include single 8" smooth and double 4" or 5" straight wood grain. This choice includes perforated strips with holes at the top that fasten onto the exterior walls. Interlocking flanges on the top and bottom keep the siding sealed against weather like rain, snow and ice.
Generally durable for several years, homeowners may find scratches, dents, or corrosion further detract from the appearance. The damaged section may have to replaced completely if the existing siding is too damaged.
During extreme temperatures, the aluminum may change shape because it has expansion contraction rates greater than wood, steel, or cement. It can be noisy during hail or windstorms. Aluminum is also prone to many dents with debris or even small hail hitting the siding.
Everlast is available in 4.5 inch and 7-inch exposure.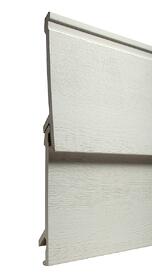 Made of stone and polypers with zero wood fibers, Everlast siding will not rot because it does not retain moisture. Thus, it also resists pests like termites and bugs.
Likewise, the thick interlocking planks provide sturdiness. They lie flat against the house and resist moisture between the siding and the house. The composite choice also includes thick planks that protect the home from debris, high winds, and flying objects (we have children too).
Based on the differences between aluminum siding and composite siding, both choices withstand the harsh New England weather. The composite choice, however, provides better economic value.
Everlast composite siding includes a transferable lifetime warranty that includes Lifetime Fade Protection and hail damage (see actual warranty for details). It retains its color and appearance for a lifetime and beyond, which makes this choice a great investment. Homeowners who are looking for home siding appreciate the longevity and warranty provided by Everlast Composite siding.