When choosing the best new home siding,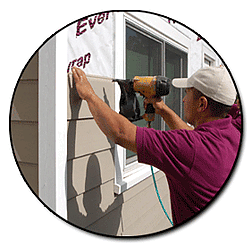 one of the facets to consider is installation time. The amount of time necessary to properly cut, hang, and fasten siding panels directly relates to labor costs, arguably the most overlooked cost of home improvements. Vinyl siding installation time differs from the amount of time necessary to install Everlast Composite Siding, which makes Everlast siding an intriguing choice.
Keeping labor costs manageable is a difficult task for novice contractors. Experienced contractors should be rather adept at estimating the amount of time necessary to complete a project. Reasonable labor costs could make the difference between earning a contract and losing a contract.
The installation time of vinyl siding is difficult to judge at a glance. Many factors such as preparing walls, doors, and windows before beginning the job affect labor costs. Rushing through the installation process of vinyl siding can quickly turn disastrous due to the delicate nature of PVC siding.
Vinyl siding expands and contracts as temperatures swing from hot to cold. Face nailing or stapling through siding is a common mistake. Contractors must fasten the material with this fact in mind to ensure that their work will last longer than a few months.
Another example of the peculiarities of vinyl siding is the fact that workers must use caulk judiciously. Vinyl siding installation requires that contractors do not caulk the receivers of inside corners or outside corners. The material's J-trim must not receive caulking either.
Homeowners in the New England region cannot afford to have vinyl siding installed improperly. The reality is that vinyl siding is a flimsy plastic material that provides little shielding from the harsh winter elements of a New England winter. Everlast siding, on the other hand, has several benefits over vinyl siding to consider.
It is possible for a single contractor to install vinyl siding single-handedly, but more often than not, a team of workers is necessary to level walls and fasten joints properly. Even cutting vinyl siding properly can be time-consuming when dealing with an inexperienced contractor.
Contractors can cut Everlast using a circular saw quickly.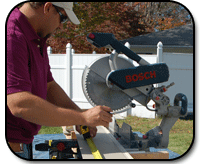 Everlast is so simple to cut, hang, and fasten that the basic tools required include saws, hammers or nail guns, power drills, and other simple carpentry accessories.
Homeowners in New England must decide on a labor budget when selecting a home siding. Vinyl siding is the cheaper option, but labor costs can exceed the labor costs associated with Everlast siding.