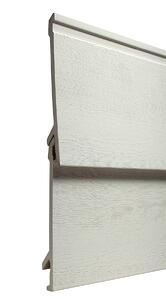 Everlast Composite Siding Interlocked Planks
When selecting a premium siding, the decision narrows down to a choice between concrete siding or Everlast Composite Siding. Also known as fiber cement board siding in the home improvement industry, concrete siding has its pros and cons to consider. Everlast siding, on the other hand, is gaining in popularity among homeowners interested in an alternative to fiber cement siding board.
Durability
Dimensional stability, or the ability of a siding material to maintain its shape over time, differs between fiber cement board siding and composite sidings such as Everlast siding. The difference is slight, but when comparing the two materials, this facet is worth mentioning.
Both materials are far sturdier than vinyl or metal siding. The unique compositions of each siding have been engineered to withstand tough weather and climate conditions. For example, manufacturers perform wind damage tests in order to test potential hurricane damage.
Fiber cement siding is comparable to Everlast siding in this aspect, but the difference lies in the appearance of the product afterwards. Everlast siding does not require any painting. Fiber cement siding may withstand hurricane force winds, but the paint coating will not fare well over time.
Moisture Resistance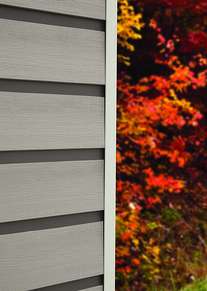 Everlast Composite Siding Color: Sand Dune
When speaking of weather and climate conditions, moisture resistance is another aspect to consider when comparing fiber cement siding board with Everlast siding. Moisture damage can lead to costly repairs if the siding material has been improperly or negligently installed.

Everlast siding is a completely moisture-resistant material. The material's unique polymeric inorganic composition assures that the siding will not absorb even the smallest amount of moisture from rain or snow. The annual freeze-and-thaw cycle of the New England region subjects sidings to both of these stresses.

Fiber cement siding board contains a small amount of wood fiber. Over the lifespan of the product, fiber cement can begin to degrade as a result of the wood fibers allowing a small amount of moisture to compromise the product's structural integrity. Everlast Composite Siding does not have this problem.

Installation Time
Installation time is directly related to the cost of labor. One of the biggest drawbacks of fiber cement siding board is the cost of installation. Cutting, hanging, and fastening fiber cement is a comparatively labor-intensive task when compared to Everlast siding.

Fiber cement siding board is also more hazardous to install than Everlast siding. This means that fiber cement siding requires a much more time-consuming installation process in order to ensure the safety of work crews. Another reason fiber cement is a more labor-intensive product relates to the sheer weight of the material. Fiber cement is extremely heavy and cumbersome.

Everlast Composite Siding, by comparison, is lighter. The material is so lightweight that it is feasible for one worker to install Everlast siding properly and relatively quickly. Fiber cement siding board requires several workers in order to lift the panels into place and fasten them properly.

These three aspects of all siding materials are arguably the most important to consider when analyzing the value of a home improvement project. Return on investment is difficult to judge, but investment return begins with choosing the best siding possible.