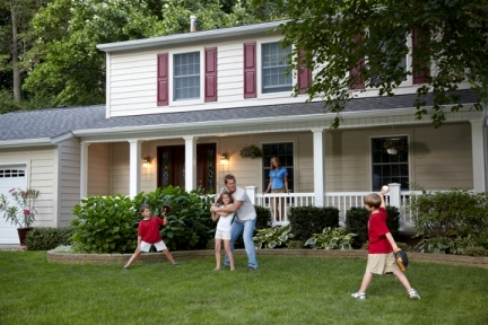 Investing in new home siding is a financial commitment that homeowners should not take lightly. Homeowners in New England essentially have two premium siding materials from which to choose: concrete siding board and Everlast Composite Siding. Also known as fiber cement siding, concrete siding has been the fashionable choice in recent years, but the popularity of Everlast siding is gaining momentum.
The Investment Return of Concrete Siding
According to contractor reviews, the biggest benefit of fiber cement siding is the product's durability and fire resistance. Concrete siding has one of the top fire resistance ratings in the home improvement industry. The material's composition, consisting primarily of Portland cement, contains a small amount of wood pulp, which leads to moisture issues.
Concrete siding has a decades-long lifespan. Winter weather damage poses little threat to the structural integrity of concrete siding only if properly installed by a competent contractor.
The problem with choosing concrete siding over composite siding is the long-term return on investment. The reality is that fiber cement siding is a very heavy, cumbersome, and hazardous siding material. This fact means that homeowners can expect higher labor costs.
Depending on the size of the project, the installation process can also take much longer to complete, leading to exorbitant labor costs. Since fiber cement's silica dust is a health hazard, contractors require careful procedures to ensure the safety of crews.
In addition to high labor costs, another downside of fiber cement siding is the cost of maintenance. Concrete siding comes with a 50-year warranty, but the original paint coating is not guaranteed for 50 years. The warranty only relates to the structural integrity of the product if properly installed. Eventually, homeowners will have to apply new paint to concrete siding within at least 10 years.
Taking these hidden costs into account, the investment return of concrete siding is suspect, and homeowners interested in a long-term siding solution should keep in mind the drawbacks of fiber cement siding.
The Investment Return of Everlast Siding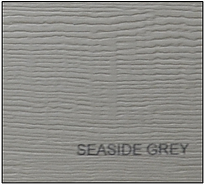 Above is a close up on the texture of one of our most popular colors: Seaside Grey.
Everlast Composite Siding has a rivaling durability and fire resistance to concrete siding. However, the labor and maintenance costs associated with this siding material are lower than concrete siding, which leads to a better return on investment.
Concrete siding board contains a small amount of wood fiber that can allow moisture to degrade paint over time. Everlast Composite Siding contains no wood at all. It consists of inorganic stone ingredients, rivaling the strength and durability of fiber cement siding.
Everlast siding also does not require any painting ever because it is colored through. Everlast siding gives homeowners a genuine long-term siding solution with reasonable labor and maintenance costs to consider. Everlast's return on investment trumps concrete siding on these two facets alone.
New England homeowners reside in a region prone to wide swings in weather, particularly during the winter freeze-and-thaw cycle. As such, finding a long-term siding solution is paramount to maximizing return on investment.